Are you interested in helping support our natural community by giving your time to help spread the word about the beauty and benefits of native plants and native landscaping? Are you able to spare a few hours to help out at a special event, or commit a few hours each month as part of a regular committee? If you answered yes, please read on!
It takes a lot of people to keep this organization, and the programs and services it offers, running smoothly. Below is an overview of how you can get involved and benefit the Kalamazoo Area community.
We are always looking for new volunteers to help staff and invigorate all of our service committees. Please consider giving your time to help Kalamazoo Area Wild Ones continue to offer a range of outreach and education activities. Paid membership is not required to volunteer with service committees. Description of the various committees are below.

The Executive Committee is comprised of 8 members elected to various positions. Paid membership with Wild Ones is required to serve on the EC. Elections occur in November by electronic ballot. More details on the Executive Committee are below.

If you, or someone you know, is interested is serving in any of these capacities, please contact us at [email protected] and we will get back to you.
COMMUNITY PROJECTS
If you like to be outdoors and work with plants, volunteering on Community Projects is a way to get hands-on experience with various native plant projects and get to know fellow Wild Ones enthusiasts. Work days occur in Spring, Summer, and Fall at various locations in Kalamazoo. Each work day is about a 2 hour commitment. LEARN MORE

OUTREACH AND EDUCATION
Preparing materials and tabling are vital parts of KAWO's Outreach and Education function. They also provide you with opportunities to meet new people who either share your interest in native plants or who are eager to learn more.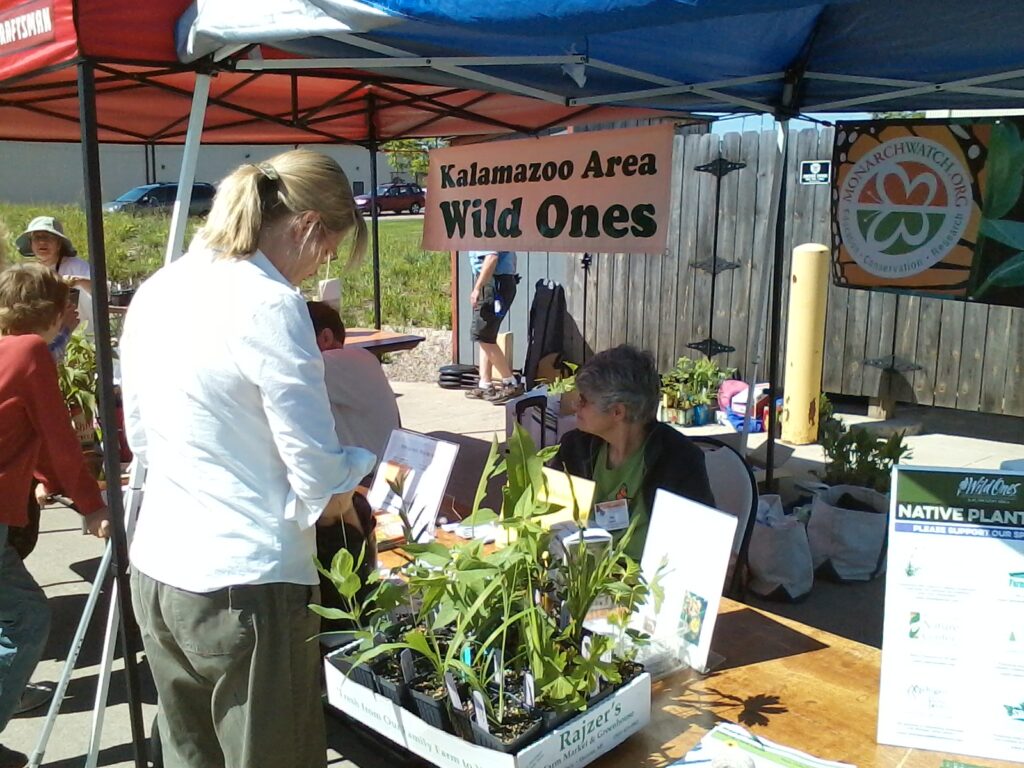 We often need individuals to serve as representatives of KAWO at tabling events. In this role you will display and distribute a variety of printed materials and discuss KAWO's programs with visitors attending the event. All materials will be provided to you. It is preferable to have 2 volunteers filling each shift, especially if heavy traffic is expected at the event. If you haven't done this before, we will pair you up with an 'experienced' volunteer. Each event shift is generally a 2-4 hour commitment. For more information, please contact Noel Ocen at [email protected].
THANK YOU to all who helped out with our recent tabling events
PROGRAM COMMITTEE
KAWO regularly hosts programs featuring invited speakers and field trip leaders. Volunteers on the Program Committee organize the yearly schedule, communicate with speakers to obtain program descriptions and speaker bios, and handle meeting space logistics. The group begins planning for the following year in April and meets roughly every 3 weeks (currently via Zoom) until the program is complete. If you have ideas for speakers or events, or are interested in being a part of the Program Committee, contact us at [email protected].
COMMUNITY NATIVE PLANT SALE
Each year, Kalamazoo Area Wild Ones holds a native plant sale in late May/early June. This is our biggest fundraiser of the year and proceeds enable the various community projects, outreach events and speaker programs we offer throughout the year.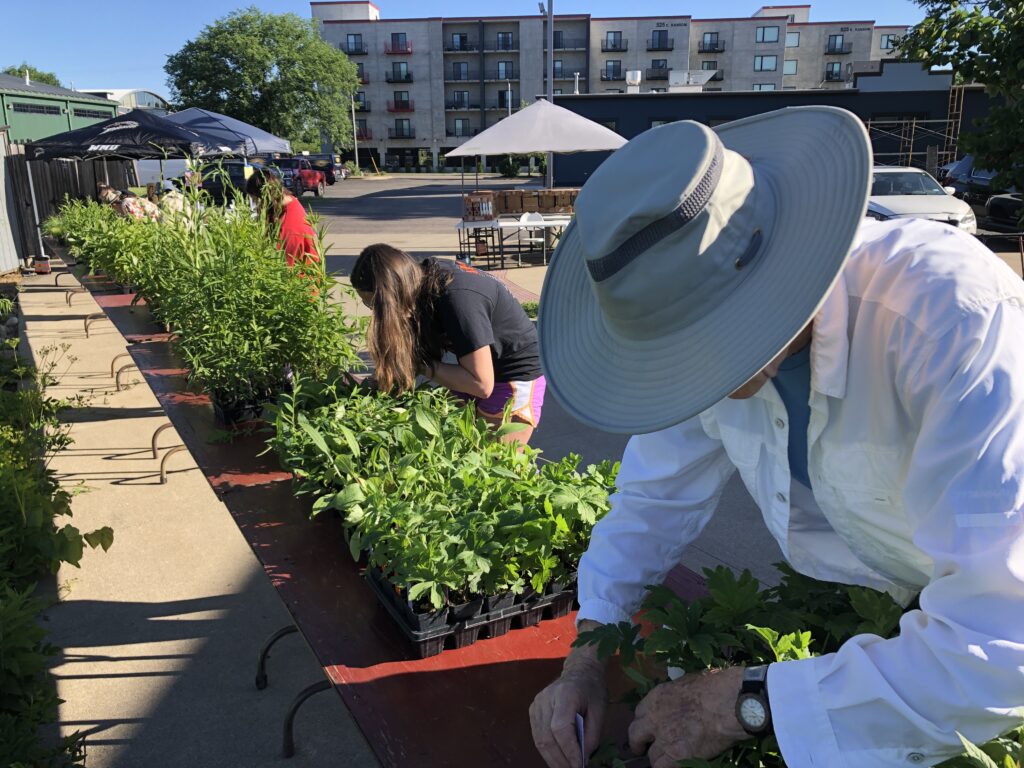 Putting on the plant sale requires a lot of behind the scenes planning along with assistance on the day of the sale. From being a part of the Plant Sale Committee that selects plants to offer and figures out all the logistics, to day-of-sale setup, customer assistance, checkout staffing and end-of-sale clean up, there are a multitude of opportunities for you to be involved. Veteran Wild Ones volunteers are eager to help you learn if this is your first time. The Plant Sale Committee begins planning in fall and meets 1-2 times per month up until the spring plant sale date. Day-of-sale assistance is generally a 2-3 hour commitment. If you would like to be involved, contact us at [email protected].
---
COMPREHENSIVE COMMITTEE LIST
There are a host of Wild Ones committees and positions that focus on specific aspects of KAWO's vision. We are always looking for new volunteers to serve, and you need not be a member to be a part of these committees. Please email us at [email protected] if you would like to find out more about how you can get involved! Committee chairs and position leads for the current year can be found on the Business page.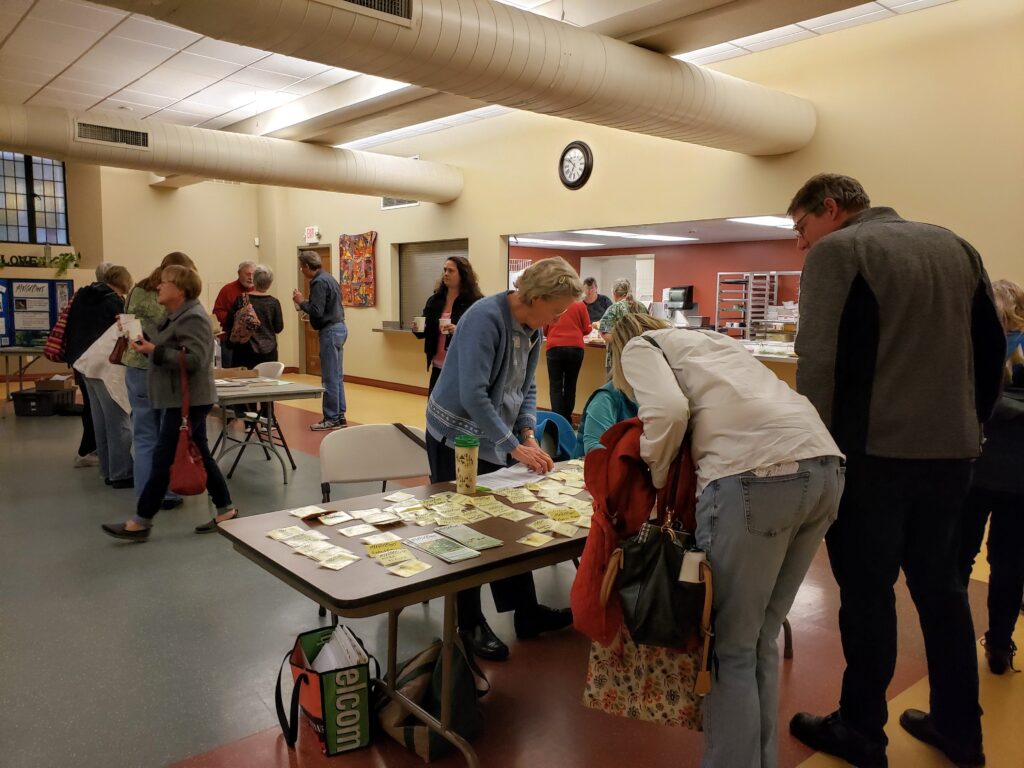 Community Projects – conduct work at various sites (1 chair and multiple volunteers)
Hospitality – organize refreshments for in-person events (1 chair and multiple volunteers)
Membership – field membership questions and business (1 chair)
Monarch Partnerships – conduct activities related to monarch education and support (chair and volunteers)
Outreach and Education – prepare materials for outreach events; table at community events (1 chair and multiple volunteers)
Plant Sale – organize all aspects of the annual community plant sale (1 chair and multiple volunteers)
Programs – arrange the yearly schedule of speakers and field trips (1 chair and 3-4 additional volunteers)
Site Visit/Mentorship – conduct site visits/ advise on native plantings (chair and volunteers)
Volunteer – develop and coordinate a list of volunteers for KAWO activities (chair)
Kalamazoo Environmental Council – representative from KEC that liaises with KAWO
Fundraising – under development
Publications chair – coordinate activities among the different content specialists

KAWO Facebook page – create regular posts about native plants and native landscaping; highlight KAWO and related events (1 social media person)
Seedlings newsletter – create content for the monthly electronic newsletter (1 editor to solicit, organize and publish; contributing writers can submit once or write a regular feature – all submissions are welcome)
KAWO website – create and solicit content; maintain the chapter website (1 webmaster)
---
EXECUTIVE COMMITTEE
The KAWO Executive Committee (EC) is a group of KAWO members who meet once per month (separate from our regular program meeting) to confer, discuss, and vote on the business at hand. The EC does the behind-the-scenes work to keep our Wild Ones chapter running efficiently. Many also volunteer on other service committees.
There are 8 positions (described below), elected yearly, that make up our EC. In order to serve on the EC you must have an up-to-date membership. Elected members for the current year can be found on the Business page.
President – The person who makes sure everyone else is covering the details. Also represents at community events involving Wild Ones, among other things.
Vice-President – Helps out the president and is generally next in line for the President position.
Secretary – Takes the minutes of our EC meetings, handles official correspondence, etc. among other things.
Treasurer – Responsible for keeping track of how we're doing financially, balance sheets, reports to the EC etc.
At-Large (up to 4 positions) – Provide additional input on the business at hand; often lead the service committees.
Read our bylaws for more information on officer duties and committee goals.
CALLS FOR NOMINATIONS: Beginning late summer each year we begin the search for nominations for elected positions. If you or someone you know is interested in learning more about and running for an Executive Committee position, please contact us at [email protected] and the chair of the Nominating Committee (Ann Fraser) will get back to you.  Individuals must have membership dues paid through December of the current year to be on the EC ballot. Elections for the next calendar year are conducted by electronic ballot and held in November of the preceding year.
---
Thank you for taking the time to consider how you might get more involved with Kalamazoo Area Wild Ones. It's people like you who help KAWO achieve its vision.
---