Are You On the Map?
by KAWO members Noel Ocen-Gorgone and Mel Luna
In his book Nature's Best Hope, the inspirational Dr. Doug Tallamy invites us, as individuals, to join together to actively protect and replenish the biodiversity needed to support a functioning ecosystem. In short, each of us can contribute to the solution by converting a portion of our existing lawns to native plants—emphasizing the keystone native plants most responsible for supporting our pollinators and wildlife. Watch Tallamy's presentation of Nature's Best Hope here.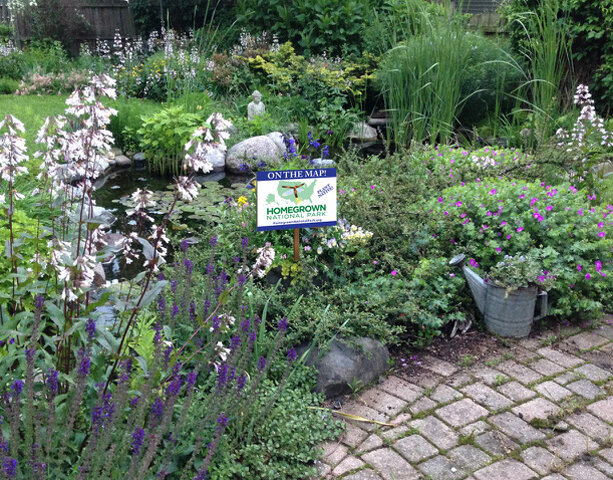 Homegrown National Park® is the term coined by Dr. Tallamy for his science-based grassroots call-to-action to regenerate biodiversity. It is the largest cooperative conservation project ever conceived or attempted, with an initial goal of planting natives in place of just one half of the green lawns (ecological deadscapes) of privately-owned properties. That equals twenty million acres – more than all of our national parks combined!
KAWO is committed to supporting this initiative. Currently, there are 23 people in the Kalamazoo area on the map. Put yourself on the map today, then help your friends, family, and neighbors to get on it as well! Visit the link below to register for an account (by zip code) and then start entering your current native plantings and future goals. Convert some lawn, remove invasives and increase native plantings. Be a part of the solution to the environmental crisis facing us and the biodiversity around us!
How can you get on the map?
Visit this link to fill out the short registration page. Once you verify your account you can record the area of your native plantings, set planting goals and follow progress in your community zip code.
"We need to find ways for nature to thrive in human-dominated landscapes, not hang on by a thread, but thrive."
– Doug Tallamy
Watch for updates here, in KAWO's Seedlings newsletter and on our Facebook page.