Written by Nancy Cutbirth Small and Tom Small, co-founders of the Kalamazoo Area chapter of Wild Ones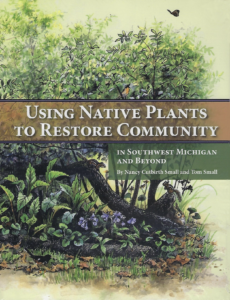 The book may be purchased at various local venues, or through national services for the convenience of those out of state (see below).
270 pages of practical, specific advice and inspiration to help you create a more environmentally friendly landscape in yards large and not-so-large
Featuring 150 original illustrations by distinguished area artists
Proceeds go to the Nancy Small Memorial Fund for environmental education
click here for a charming review from the Lawton Free Reader
Nancy Small spent the last two years of her life writing a book that would include much of Tom's and her writing over the course of their life together as co-founders and leaders of Kalamazoo Area Wild Ones. During the last months of her life in 2009 she made Tom promise over and over that he would finish the book. He has kept his promise.
Tom has revised and updated many of Nancy's plant lists for Wild Ones members, as well as many of the essays they wrote, separately or together, for various publications, including newsletters and journals of Wild Ones, Wildflower Association of Michigan, and Quaker Earthcare Witness, the Quaker environmental organization for the Americas. And there's much entirely new material.
The book includes about 150 wonderful illustrations by five local and regional artists and scientific illustrators: Ladislav Hanka, Amelia Hansen, Elizabeth Henderson, and Nancy Stroupe, all from southwest Michigan, and Nancy Halliday, a scientific illustrator from Illinois. The book's design is by Linda Judy, a professional book designer who recently retired as the designer for WMU's Medieval Institute Publications and Cistercian Publications.
---
Where to find Nancy and Tom Small's Book
Kalamazoo/SW Michigan area retail
Bookbug–3019 Oakland Drive (Oakwood Plaza)
Confections with Convictions–116 W. Crosstown Parkway
Kalamazoo Nature Center–7000 N. Westnedge
Kazoo Books–3413 Parkview and 407 N. Clarendon
Kellogg Bird Sanctuary (office)–12685 E. C Ave., Augusta
Lowry's Books & More–22 N. Main St., Three Rivers
Michigan News (through the "Creative Endeavor Project")–308 W. Michigan Ave.
Nature Connection–350 S. Kalamazoo Mall
Pierce Cedar Creek Institute–701 W. Cloverdale Road, Hastings
People's Food Co-op–507 Harrison
Sarrett Nature Center–2300 Benton Center Road, Benton Harbor
Southwest Michigan Land Conservancy–6851 S. Sprinkle Rd., Portage
Van Buren Conservation District–1035 E. Michigan Ave., Paw Paw
Ann Arbor retail
Crazy Wisdom Bookshop & Tearoom, 114 South Main St. (734-665-2757)
Nicola's Books, 2513 Jackson Ave., 48103, [email protected]
Grand Rapids retail
Schuler Books and Music, 2660 28th Street SE, 49512 (616-942-2561)
Outside the area/by mail
The first preference – to keep dollars local – is to order directly.
Credit card/next-day shipping possibility: from Kazoo Books, Kalamazoo, either online (kazoobooks.com) or by phone, 269-553-6506 or 1-800-516-2665.
Other choices: Amazon, Alibris, Abebooks, AntiqueBook (Europe) and Biblio.com (order and pay by credit card through any of these, but the book will nonetheless be shipped by Kazoo Books)
---