Oak savanna restoration at MacCready Nature Reserve
Saturday, July 9, 2022 * 9 am – 12 pm
(depart Kalamazoo 7:45 am)
with Tyler Bassett, Michigan Natural Features Inventory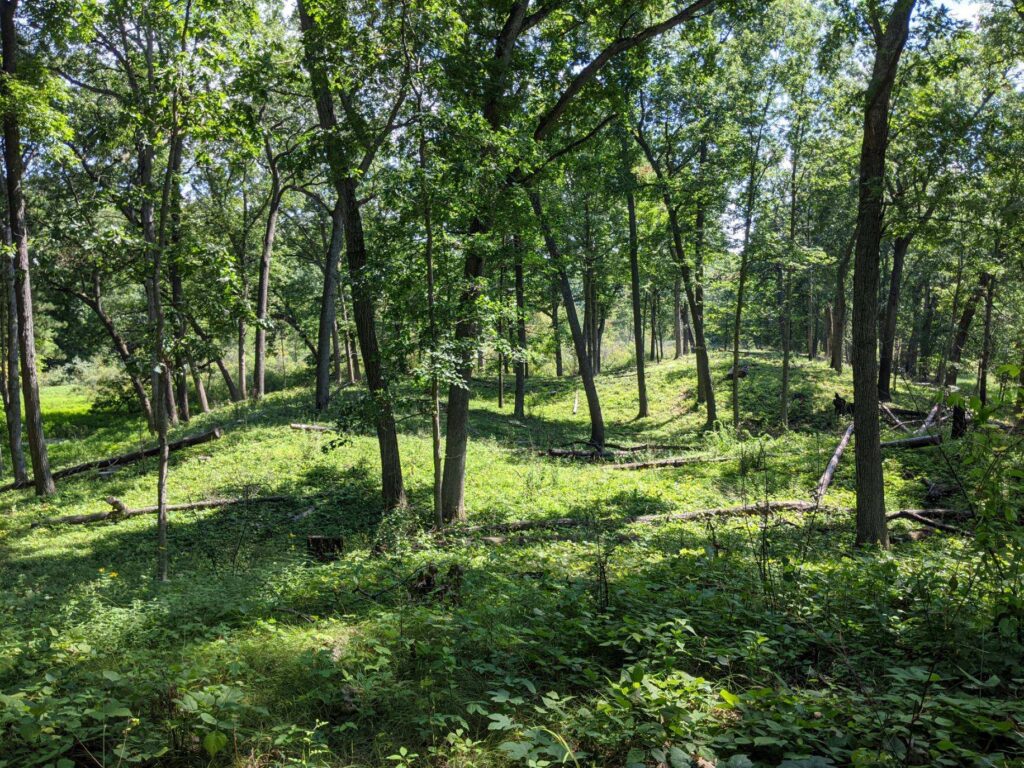 Oak ecosystems were abundant in the eastern United States prior to widespread European colonization, and the dominant cover type in southern Michigan. Representative fragments of oak forest persist sporadically across southern Michigan, while the once common oak savannas have been largely eliminated due to logging, grazing, agriculture, and fire suppression. While forests are characterized by canopy closure and patchy understory vegetation, savannas have widely spaced trees and dense understory vegetation. Oak ecosystems developed over millennia with frequent fire often set by Native American tribes and sometimes ignited by lightning strikes. Oak forests transition gradually to other forest types in the absence of fire while oak savannas fille in with trees and shrubs and become forests quickly, with associated losses in species diversity. Oak savanna is one of the rarest ecosystem globally and desperately in need of restoration.
Michigan State University's 408-acre MacCready Reserve in southcentral Jackson County is ideal for fulfilling its mission of education, research, and outreach about natural ecosystems. Join us on Saturday, July 9 to experience oak savanna restoration firsthand. An oak savanna restoration experiment was initiated at MacCready in 2010 by MSU professors Lars Brudvig and Doug Landis. The experiment compares the efficacy of two restoration approaches for restoring the savanna understory plant community – prescribed fire with and without mechanical tree thinning, as compared to unrestored controls. The difference between restoration approaches is clear to see, and this field trip will highlight those differences. Initial results show that while burning is clearly effective, thinning in addition to burning jump starts the restoration process. Without repeat thinning the gains are somewhat ephemeral. Restoration is a long-term process as ecosystems evolved with human management and still requires it.
Sturdy boots will be fine – we won't be trudging through any wetlands and there are good trails. Ticks are bad this year and mosquitoes and deer flies will likely be out, so prepare accordingly. We'll probably walk up to 2 miles as the plots are a ways back from the parking lot.
Carpooling option: meet up at the Meijer at 5121 South Westnedge in Portage by 7:40 am. Once at Meijer, find the small parking lot in the southeast corner between the Extreme Clean Carwash and the Meijer Garden Center (at Andy Ave and Wisteria St junction). Google maps link: htps://goo.gl/maps/1AxzggfZCnW1A158. Contact Ruth Caputo (email [email protected] | phone 269-323-1538) to let her know to expect you. It is a 1 hr 15 min drive to the site.
Directions from Kalamazoo to MacCready Nature Reserve, Skiff Lake Rd, Clarklake, MI 49234: take I-94 East to exit 142, south (right) on US-127 toward Hudson, 11.1 miles on US-127 to Jefferson Rd, go west (right) on Jefferson Rd and go 2.1 miles to Skiff Lake Rd, north (right) on Skiff Lake Rd 0.3 miles to MacCready Nature Reserve on the right. Meet up at 9 am on site.