Healthy Soils Lead to Healthier Food and a Healthier Environment
Wednesday, September 27, 2023 • 7-8 pm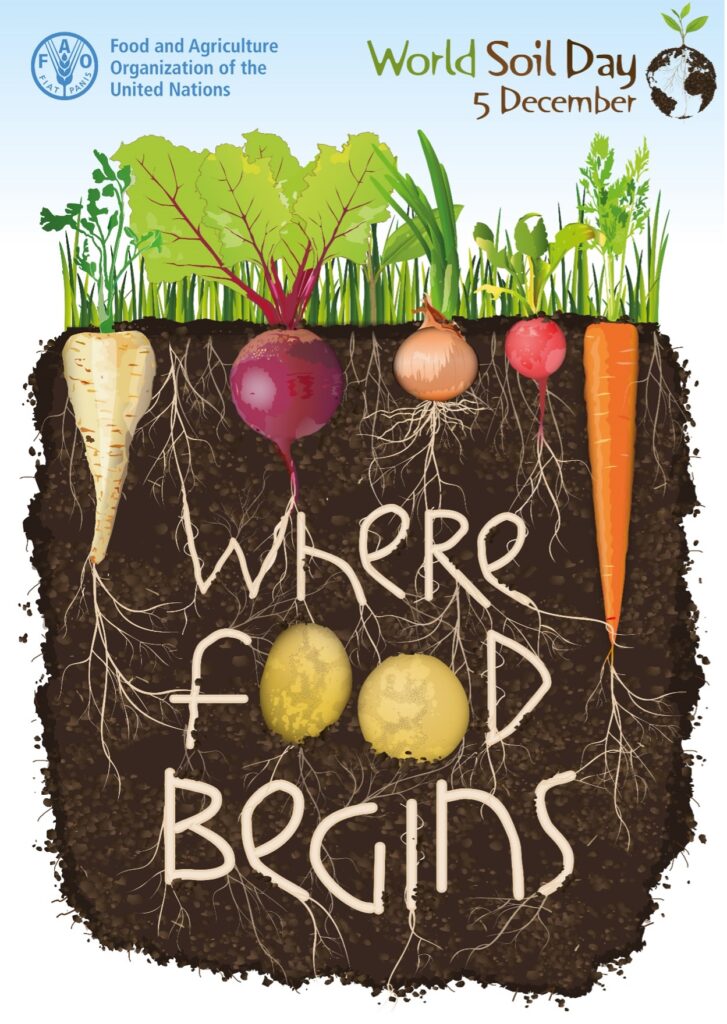 featuring Mike Klug, Professor Emeritus, Michigan State University
Portage District Library, 300 Library Lane, Portage, MI. (View Map)
social time with information tables and snacks begins at 6:30 pm; program begins at 7:00 pm
Program Description
When you sit down at the dinner table, the topic of conversation is most likely not centered on the soils where your food came from. Yet soil is fundamental to all terrestrial life forms including our own. Today growing evidence points to the importance of healthy soils on our health and that of our environment. In this program, Mike Klug will draw on historical and recent literature to provide us with an overview of what healthy soils look like, what leads to their decline, and how we can improve degraded soils and maintain healthy ones.
Approximately 0.3% of global food production each year is lost due to soil erosion and degradation. This leads to the need for increasing inputs of inorganic fertilizer and other chemicals, which often accelerate the decline of soil health. At the same time, the foods we eat today have less nutritional content, which is partially due to soil health.
The link between healthy soils and animal health, including ours, is complex. A better understanding, however, is emerging through the large increase in studies appearing in peer reviewed publications, symposia, and governmental reports over the last 10 years. It is becoming clear that healthy soils impact food nutritional values, provide beneficial antioxidants, other compounds, and contribute to food security. Much of this is due to the proliferation of diverse microbial and invertebrate communities in healthy soils and their impact on crops and higher animals. There is also growing evidence on the link between the soil microbiome and our own gut microbiome.
Linkage between healthy soils and the environment has been known for many years.  Some of this was learned from the experiences of recovering from the Dust Bowl of the 30's, and the subsequent change in the future management of soils.  Unfortunately, some agricultural practices have led to wide spread erosion, resulting in the loss of top soil at a rate that exceeds the rate of its replenishment.  This loss also has led to a decrease in soil fertility and organic matter which contributes to declining microbial and invertebrate diversity, decreased water holding capacity, and increased microbial respiration rates.  The latter leads to increased carbon dioxide concentrations in the atmosphere. Fortunately, progress is being made to slow soil degradation through changes in tillage practices, use of cover crops, precision farming and more ecological approaches to soil management. Restoration agriculture and soil recarbonization are becoming actively studied in atmospheric and agricultural studies. Historians have also reminded us that soil erosion and degradation led to the loss of many past civilizations.
---
Mike Klug is a retired Microbial Ecologist from MSU's Kellogg Biological Station. His primary research was on the diversity and function of microbial communities associated with the decomposition of naturally occurring organic matter. Comparative analyses were conducted in fresh water and marine sediments, gut tracts of insects and soils. Research on agricultural soils involved assessing changes in microbial diversity and function in various agricultural management treatments ranging from organic to conventional. On a personal note, Mike and his wife Carol have attempted to improve their soils and restore native vegetation on their property. They have also propagated many native plants including milkweeds. The latter have been given out to numerous audiences in order to help conserve monarch populations.
This is an in-person event at Portage District Library, 300 Library Lane, Portage, MI. View Map
The PDL facility has free parking and is wheelchair accessible.
Come early to enjoy some social time, information tables and snacks, beginning at 6:30 pm; program begins at 7:00 pm
This program will be recorded and posted on our YouTube channel in the event you are unable to attend in person.