Eating Wild for the Future – Field Trip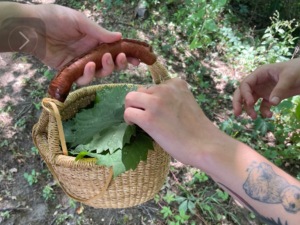 Saturday, June 17, 2023
10 am – 12 noon
with Brenna Pixley, Community Herbalist and Wild Food Advocate
Take a walk on the wild site with host Brenna Pixley as she leads us on a a guided walk around Asylum Lake to learn about various edible plants growing in the area. Along with helping us locate and identify edible plants, Brenna will give us practical advice on ethical and sustainable foraging techniques. As she described in her May speaker presentation to Kalamazoo Area Wild Ones, Brenna often talks to the plants while she is foraging. And who knows, maybe they will talk back! Come find out. The walking paths are wide and the terrain is relatively flat.
Meet at the Asylum Lake Preserve South Parking Lot off Parkview Avenue at 10 am. Additional parking is available across the street in the parking lot to the left side of Gibbs House (permission from WMU has been arranged).

NOTE: Parking is limited so if you know of others planning to attend, please organize a carpool.
Questions? Contact us at [email protected]
---
Brenna Pixley is a community herbalist and wild food advocate living in the Vine neighborhood on a micro urban farm. She enjoys teaching herbalism and other courses at Kalamazoo Valley Community College and its Valley HUB program, along with a foraging course at Tillers International. Her favorite days are spent attending primitive skills gatherings across the country with her family.