A Tour of Kalamazoo Native Plant Gardens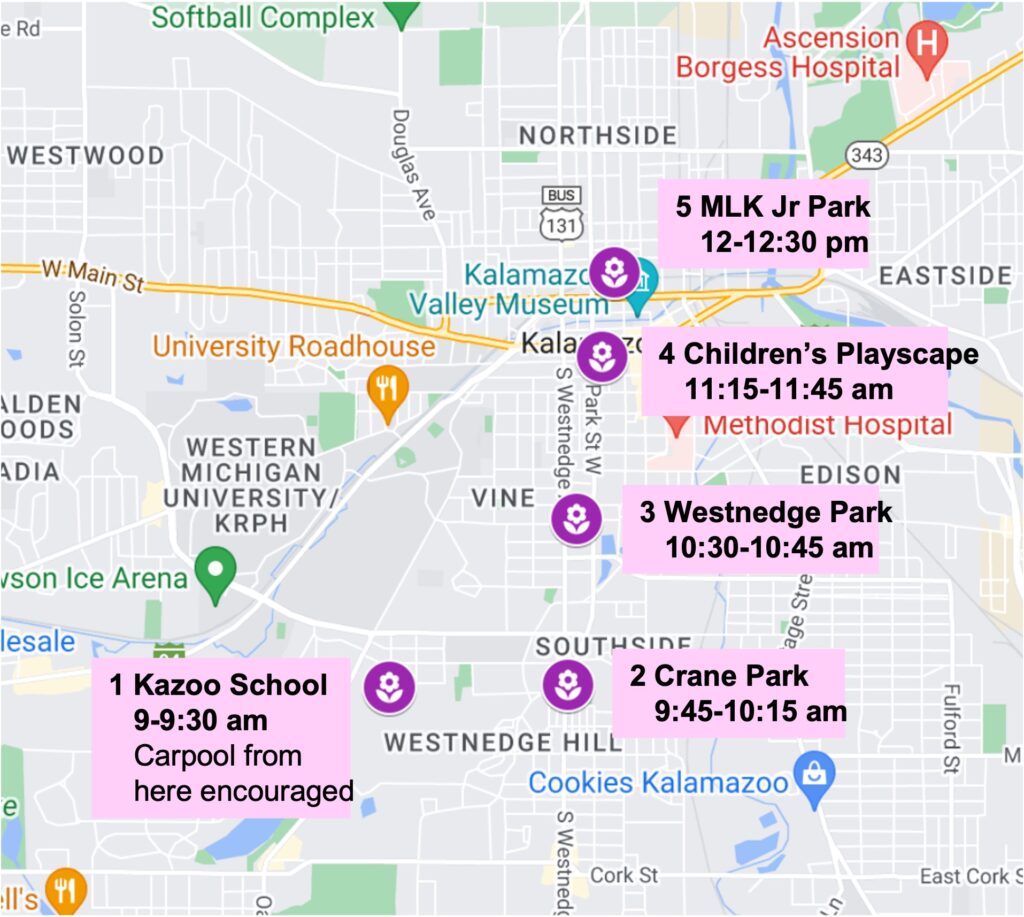 Saturday, July 29, 2023
9 am – 12:30 noon
organized by Ruth Caputo, Kalamazoo Area Wild Ones
In our July 29 field trip "A Tour of Kalamazoo Native Plant Gardens" you will have the opportunity to view and learn more about native plant gardens in five areas of the city that have been supported by different organizations, neighborhood groups, and volunteers over many years.
At each location, a person representing the group or organization that made the garden possible will offer insights into how the native plant garden came into being, and how their project contributes to the lives of those who enjoy the gardens.
Tour Schedule
The tour will begin at Kazoo School at 9 am and move toward downtown, ending at Martin Luther King Jr Park around 12:30 pm. Carpooling from the Kazoo School site, where there is plenty of free parking, is encouraged. In the downtown area, parking may be limited and fees may be charged (scroll right in table below to see parking information if using a mobile device).
| TIME | PLACE | ADDRESS | GUIDE | PARKING |
| --- | --- | --- | --- | --- |
| 9 – 9:30 am | Kazoo School | 1401 Cherry St | Steve Keto | Parking lot in back of building |
| 9:45-10:15 am | Crane Park | 2001 S Westnedge Ave | Natalie Patchell | Street parking along Grandview Ave and Crane Ave south of the park |
| 10:30 – 11 am | Westnedge Park | 1101 S Westnedge Ave | Tyler Bassett | Street parking on Park Pl south of the park |
| 11:15 – 11:45 am | Children's Nature Playscape | 302 Academy St | Nora Seilheimer | Metered parking along Church St (east of park) and Academy St (south of the park) |
| 12 – 12:30 pm | Martin Luther King Jr Park | 507 N Rose St | Karen Chadwick & Tom Small | Metered parking along N Rose St (east of park) |
Questions? Contact Ruth Caputo [email protected] | 269-207-2815
DESCRIPTIONS OF INDIVIDUAL GARDENS
"Environmental sustainability is central to the experience at Kazoo School," according to Brendan Sheerin, Principal of the Kazoo School.  The native plant garden at Kazoo School was planted by Kazoo School students in preschool through eighth grade. They were taught the importance of native plantings, including pollination, soil stabilization and habitat restoration. Community service, environmental education, and hands on learning were all part of the process.  –  Guide: Steve Keto, former Director of Landscape Services, WMU and Kazoo School volunteer
Kalamazoo City's Crane Park is a historic gem. The City acquired the first 4 acres of land which was an old gravel pit (NW corner of the park) in 1889. A second parcel of land was added in the early 1910's and a third parcel was making the park nearly 10 acres today. Formal gardens were later developed under FDR's Work Progress Administration (WPA) in joint effort with the city. Tennis courts, 12,507 sq. ft. of walks, 2 buildings, a reflecting pool, four formal garden beds and most of mature trees which stand today were added then. Later there was a Victory Garden which provided fresh vegetables to local organizations and in the 1950s there were tens of thousands of annuals planted in demonstration gardens. In the following years the park has undergone renovations and been maintained by various entities. Since 2010 the Crane Park Beautification Project has overseen the perennial beds and the installation of a tree walk. Beginning in 2012 these volunteers supervised four Eagle Scout projects which have resulted in the rebuilding of rock walls, installation of a butterfly bed, (which is a certified Monarch Watch Station measuring over 2000 square feet featuring over 60 native plant varieties), and a forest border of native plants. The volunteers have also raised funds over the years to continue adding native and perennial plants throughout the park as well. Kalamazoo in Bloom also supports the current planting of annuals in the park. The Crane Park Beautification Project volunteers received several awards through the years and continue to maintain this beautiful park as a place to find beauty and peace while connecting with nature – Guide: Natalie Patchell, Crane Park neighborhood resident
This garden offers a glimpse of the oak savannas that once dominated the landscape of southwestern Michigan. This garden expresses the lost natural heritage of the Kalamazoo area and southwest Michigan as a whole – the oak savannas for which European colonists coined the term, "oak openings." The centuries-old white and bur oak trees that tower above are relicts of the historical landscape, and the native grasses, sedges, shrubs, and wildflowers planted below are a meager attempt to complete the picture – Guide: Tyler Basset, Botanist/plant ecologist, MNFI, MSU Extension
Children's Nature Playscape (11:15-11:45 am, 302 Academy St)
Children's Nature Playscape is a non-profit organization with an ambition to help the kids of Kalamazoo and their families get back in touch with nature one visit at a time. In this space, kids from ages 2 to 10 have the chance to play, explore, and freely interact with our natural features; including a sand pit to dig in, a log climbing tower, and a babbling stream of water. These play areas will help stir the minds of our children, keeping them ever-curious of how our natural world works (and how we can take good care of it!)
Here in Kalamazoo, not all families have immediate access to green grass, tall flowers, and flowing little creeks; some families are intentionally marginalized, even though they live within only a 10 block radius of our neighbor, Bronson Park. In response to this fact, the PlayScape is intentionally holding space for these marginalized families; helping them grow in their understanding of native plants, restoring the strength of those child-caregiver relationships, and fostering a sense of cultural awareness among all who visit – Guide: Nora Seilheimer, Executive Director, Children's Nature Playscape
Martin Luther King Jr Park (12-12:30 pm, 507 N Rose St)
MLK Park is noted for its world-class fine-art sculpture of Dr. King by Lisa Reinertson. The Natives Garden within the park was established thanks to a Nancy Small grant to a local volunteer group, MLK Park Landscape Loves. The Loves kept the new plants alive with extra water for the first two years, and now they're seeing the results.
MLK Park Landscape Loves are a group of local volunteers who meet a couple times a month to do upkeep in the park and help give this important space a bit more dignity for the people who deeply need this connection to Dr. King. Landscape Loves are loyal to their friends there. Now 16 years on, they are always in need of willing folks to help once in a while – to help pick up trash and maintain the Natives Garden – Guides: Karen Chadwick/Tom Small
---